The Basics of Building a Content Marketing Strategy
To stay relevant, you must create engaging content on a regular basis, regardless of how good your product may be.
For the companies that do create content, when was the last time you evaluated your strategy and thought about how it could be improved? The good news is there's never a bad time to focus on developing your content, and creating a strategy is not as difficult as you might think.
Going forward, you should focus on providing valuable and helpful information to your ideal audience and current customers in the form of digestible content. In doing so you'll become their primary source of information and/or entertainment, build a lasting relationship, and eventually generate greater revenue.
Are you an established company or a new brand wanting to get your name out there? Each will require different approaches when it comes to your content marketing strategy! Learning about the different content marketing types out there will also help you determine what you should be creating for your business and your customers. From there, you can define your content marketing goals and work toward achieving them.
Table of Contents
Understanding Consumers: Best Practices in Content Marketing Explained
Successful content marketing begins with understanding the mindset of today's consumers. You must aim to provide your audience with information that they need and adopt a customer-centric approach. The days of salesmen walking door-to-door pitching products have long passed, as have the intrusive marketing tactics they used. In fact, modern consumers aren't interested in being sold to. Rather, they would like to be presented with options and then determine for themselves if your product or service is right for them. This is known as inbound marketing, meaning your ideal consumer comes to you. Using this technique will help you develop an effective strategy that will ultimately increase your Return on Marketing Investment (ROMI).
Getting to know consumers begins with HubSpot's Flywheel Model, which replaces the outdated sales funnel. According to the funnel, prospects only entered the sales process via outbound marketing. Since consumers today have access to all the information they need to make informed decisions, this ideology is clearly flawed. In the updated model, the buyer's journey is divided into three stages, indicating where the consumer is in the journey and what support they require at that time.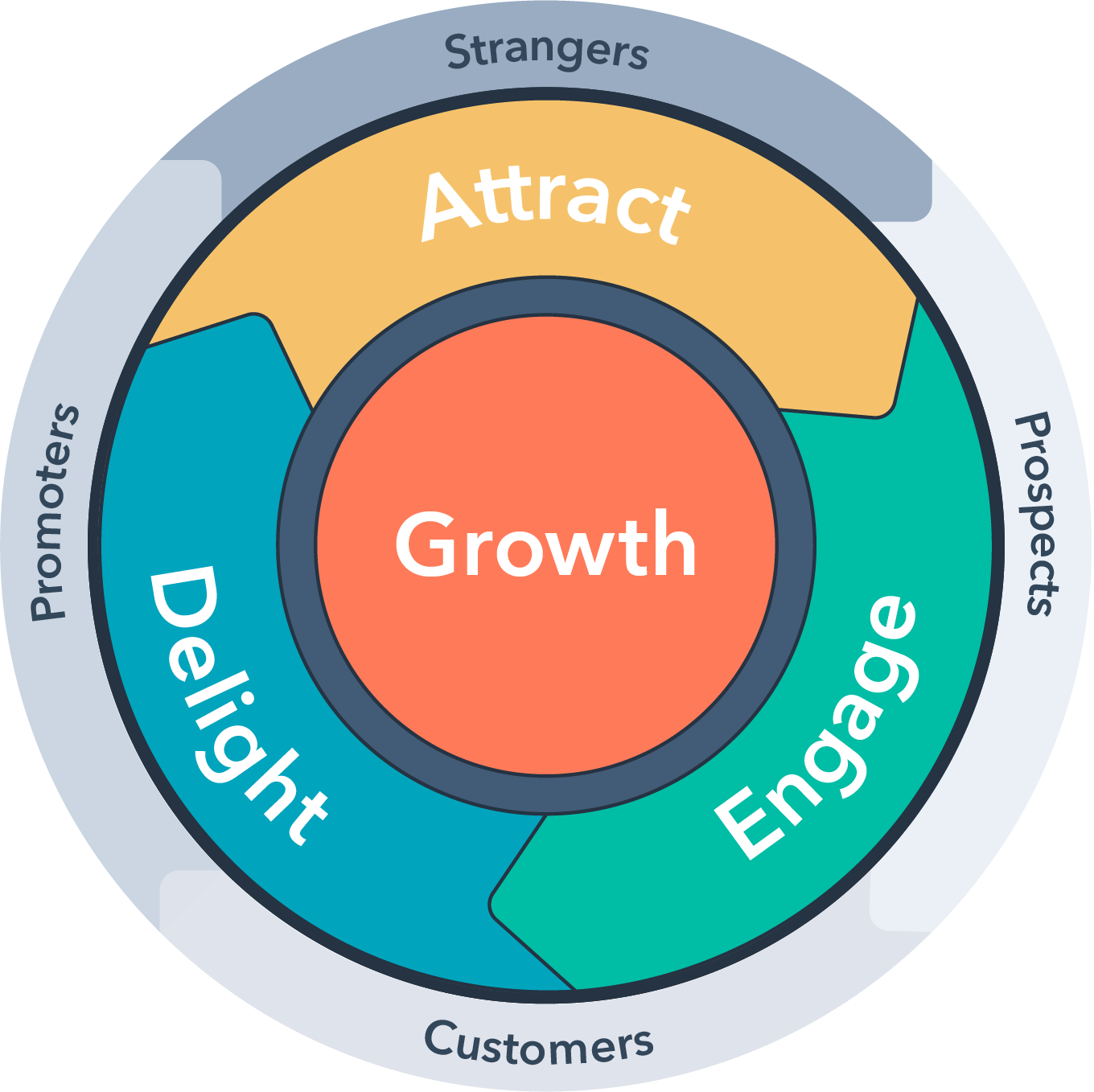 Stage One: Attracting
Whether new or existing customers, individuals can enter (or re-enter) the flywheel at any stage. Consumers enter the Attract stage by learning who your brand is and what it has to offer. An example includes a professionally-designed website with insightful copy that provides a great user experience (UX).
At this point they are not making a purchase, just simply getting to know you and building awareness. Calls-to-action (CTAs) can help them step further into the flywheel when they are ready. This includes providing your website link in your Instagram bio so that they are encouraged to visit your website upon finding your social media profile. Other ways to "Attract" include blogs, infographics, and videos. The same process also applies to current customers, who follow the same path when it comes to any new products or services you are offering.
Stage Two: Engaging
The Engage stage of the flywheel provides your target audience with information about your products or services to help your sales team generate quality leads. Consumers at this stage want to learn more and will take the next steps to engage with you willingly. Testimonials, buying guides, spec sheets, webinars, and free trials are some of the ways you can encourage engagement. Gated content, such as downloadable whitepapers, eBooks, and guides that ask for an email in order to download is another example of establishing contact with a potential lead.
An example CTA for engaging might include a newsletter sign-up at the end of a blog, with the intent of sharing product and service updates and tips to showcase how you work and inform their purchasing decision. Your audience may remain in this stage for a while before making a purchase. So be sure to offer several pieces of content that supplement each other and answer every question your audience may have.
Stage Three: Delighting
Don't forget to continue treating your customers well long after they've become one! The Delight stage is all about providing exceptional service. Follow up with your audience often to ensure they're happy and making the most of your product or service.
Email automation is an easy way to keep in touch regularly. Set up a workflow of automated emails to do the work for you and continue to engage with current customers who may repurchase. For example, a thank you email with insider tips and tricks can be triggered at a specific time after a deal closes. You can then follow up again in a few days or weeks, asking if they need to schedule a follow-up call with your support team to answer any further questions.
The Benefits of Having a Content Marketing Strategy in Place
The best way to build relationships is through content. You can attract the right audience, convert leads into customers, build brand loyalty, and create customer advocacy. In other words, more revenue.
Since younger generations have more purchasing power and influence a large portion of the market, understanding how to engage them is crucial. Again, pushy salesmen will have no chance in today's marketing environment. An effective strategy not only ensures you are getting the qualified leads you want, it also provides guidance to your internal teams on where to focus their efforts.
With a well-thought-out strategy, you can determine what types of content you need for your brand, how to implement them, and when. With regular analysis of your analytics, you will be able to make improvements to your strategy with actionable steps everyone on your team can take. Then, you can anticipate your audience's next steps and close leads that exceed your business objectives!
The 12 Content Marketing Types to Utilize
Content comes in many forms, however, certain types remain supreme. Your content marketing strategy should include blogs, social media, email, case studies, digital guides, eBooks, whitepapers, videos, podcasts, and more.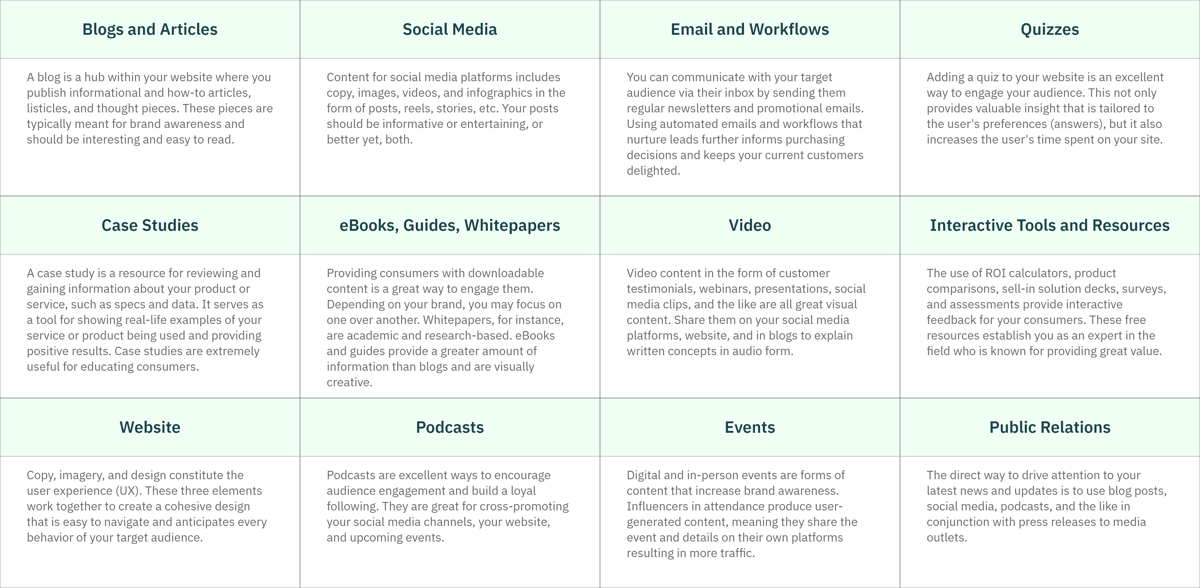 Questions to Ask Before Creating Your Content Marketing Strategy
By answering these questions, you will know what content to produce, who to target, and why they need it. Get together and discuss with multiple stakeholders and team members across your marketing, sales, and service departments. A variety of perspectives will give you plenty of ideas to begin building your strategy.
1. Who Is My Target Audience?
Creating buyer personas will help you determine who you are selling to by identifying your ideal customer. Take note of their basic demographic data, their pain points, their behavioral traits, their interests, and where they spend their time online. Using this information, you will be able to create a representation of your ideal customer profile (ICP) and better understand who to target.
2. What Content Are My Competitors Creating?
By gauging your industry's landscape and observing what your competitors are doing, you can create a content marketing strategy to identify any content your buyer personas need that your competitors aren't producing. You can also get an idea of what type of content you should be posting based on how your personas are interacting with your competitors.
3. What Are My Content Marketing Goals?
As mentioned, your content marketing goals will determine the type of content you produce. Analyze your current content efforts to determine what your goals should be. Where are you lacking, and where are you succeeding? From here you can strategize and determine what content to create.
Top Metrics to Track Depending on Your Content Marketing Goals
These are a few metrics to track in order to achieve these four common content marketing goals.
To Improve Brand Awareness:
Brand awareness attracts your ideal customer and target audience. Pay attention to page views and the bounce rate of your blog posts. On social media, measure the number of comments and reshares on your posts.
To Generate More Leads:
Getting a prospect's information starts the lead generation process. Gated content that requires a form-fill facilitates this first step. Metrics to track are the click-through rate of your CTAs and emails, along with the number of form fills.
To Boost Your Conversion Rate:
You can use this information to see which content closes sales. Track conversion rates by assigning custom UTM links to each piece of content you publish on your website.
To Increase Engagement Rate:
Increased engagement shows that your target audience, including loyal customers, is willingly participating in your content. This leads to improved metrics, SEO, and brand authority across the board. Monitor average session duration, referral traffic, and click-through rate of blog posts, plus average time on site.
Ready to elevate your content marketing strategy?
Reach out to our team if you would like an in-depth content and SEO audit of your website.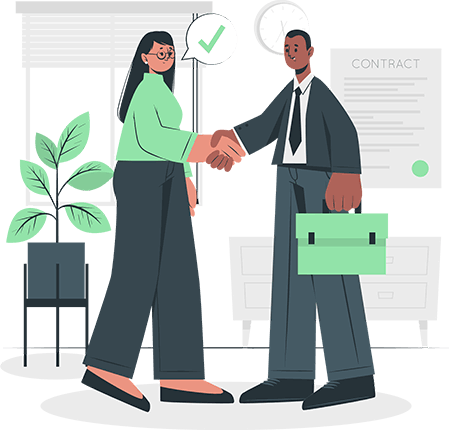 7 Steps to Executing Your New Strategy
Once you've analyzed where your content efforts stand, along with your goals, you can then implement your strategy.
1. Perform a Content Audit
Catalog existing content and add the URLs of each piece to a Google sheet. Include the upload date, the category, and basic analytics such as page views, click-through rates, etc. Make a tab for each type of content in the sheet, i.e. blogs, site pages, email workflows, downloadable content, and social posts. Note whether any current content needs to be deleted, refreshed, or is fine as is. This process may take hours, days, or weeks depending on the amount of content on your site.
2. Perform an SEO Audit
Include the SEO data of each content piece, such as meta descriptions, H1 titles, and subheadings, in the same document. Using SEO software, such as SEMRush, AHREFS, or Screaming Frog, see if the page is ranking and what keywords are on these pieces, and backlinks. Gated content, such as PDFs, should also be documented. For an in-depth analysis and accurate metrics, it's recommended to have a professional SEO audit completed.
3. Create a Content Bank
Writing your content one month ahead is an ideal timeline for publishing deliverables. This allows for enough time to write, edit, and upload content while the topic is still relevant. Write a month's worth of content before you begin regularly uploading. Additionally, start deleting content that has been marked on the audit.
4. Refresh Existing Content
In addition to writing new content for the following month start refreshing, or updating, content. Research new keywords to include throughout the copy and headings. Consider restructuring with shorter paragraphs and updated H1s and subheadings so that the content is digestible for the reader and easy for Google to crawl. Be sure to change the publishing date when reuploading refreshed content and adding it to your content sheet. Maintain the sheet at least once per year so that the content is always current.
5. Launch Content and Cross-Post
Begin scheduling your content ahead of time and updating the published dates on your master sheet. As content is being scheduled, collaborate with your team to create supplemental content to share across multiple channels. For example, create a social media post that promotes a new eBook and include its link in the post or in your bio.
6. Track KPIs and Analytics
First, let posts accumulate data before looking at analytics. After a couple of months have passed, take a look at your analytics and pay attention to the best-performing content. Is there a theme that makes users engage with them? Keep this in mind as you create monthly content. Also, ask your team if your analytics are reflecting your goals.
7. Assemble the Tools and Resources You Need
Identify who in your team can perform each of the listed duties. Depending on the talent available, we recommend breaking down your team into several copywriters, an editor, social media coordinator, email specialist, and UX specialist. These can be outsourced or in-house professionals.
Free Content Samples to Double Your Pipeline in 6 Months
Having years of experience in marketing content for B2B companies, Grow ROMI provides customized strategy and content solutions for improving your digital marketing efforts and growing your Return on Marketing Investment. With a focus on SEO and content strategy, we can demonstrate how well-executed content marketing can double your pipeline in as little as 6 months.
Let us show you how our suite of comprehensive services can boost your ROMI.
Get in touch with us today and receive a free consultation with a CMO. You can take advantage of one of our audit services or receive templates and tactics to bring your marketing department back on track.
Resources
Insights from our experts
At Grow ROMI, ideas are flourishing. Sign up to receive valuable thought-leadership and marketing industry trends from our SaaS marketing experts.
NEWSLETTER
Subscribe
Newsletter

&
get latest update...